Spacious And More!GAMBREL LOFTED GARAGES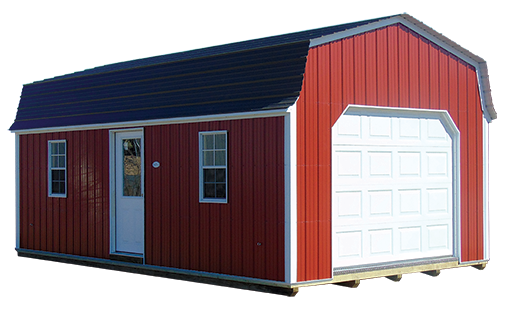 Gambrel Lofted Garages Are So Versatile!

Our Gambrel Lofted Garages come with an 8′ spacious loft in the back for added organization and storage. Two front view windows add light to your working storage building. You can easily add more windows to increase your lighting.
Portable with treated 4″ x 6″ skids you can add 4 Heavy Duty Anchors to secure your building for $216.00 (includes installation).
Quality Flooring Is Strong Enough For A Medium Size Pickup
Gambrel Lofted Garages flooring is ready for all of your heavy projects. Quality materials and quality built to ensure durability for you!
GAMBREL LOFTED GARAGE STANDARDS
9' X 7' Garage Door
(2) 22'' x 36'' Alum Windows
36" 1-Lite Steel Entry Door
Loft In Back
12" On Center Floor Joists
6' 9" Side Walls
3/4" Flooring
Ring Shank Nails
Treated 4" x 6" Skids
Key Locking Doors
All Exposed Material Pressure Treated
Heavy Duty Truss Plates For Construction
Premium Grade Lumber Used For Construction
2 x 6 Floor Joists
12" On Center
Heavy Duty Standard Floor

A LEVEL GRAVEL PAD ON ALL BUILDINGS 12′ X 20′ AND LARGERrecommended
GAMBREL LOFTED GARAGES
Metal Wood Size
Call For Price
12 x 16
660-947-4391
12 x 20
Call For Price
12 x 24
660-947-4391
12 x 28
Call For Price
12 x 32
660-947-4391
12 x 36
Call For Price
14 x 20
660-947-4391
14 x 24
Call For Price
14 x 28
660-947-4391
14 x 32
Call For Price
14 x 36
660-947-4391
14 x 40
Call For Price
Prices Subject To Change Without Notice
Customization Easy – Ask Us!